ABOUT BIG BILL
"BIG" Bill Thomas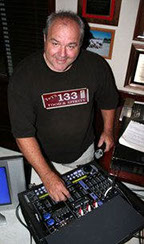 Dj Big BIll Thomas has been entertaining crowds for over 25 years. First in stand up comedy, then in voice acting, Wedding singing and Djing. It's this combination of humor, love of music, and the ability and willingness to do or say whatever it takes to help the crowd have a GREAT time, that sets him apart from the competition.

When you want the BEST in musical entertainment, for your Wedding, Birthday, Anniversary, School Dance, or Corporate Function, presented by the most FUN and INTERACTIVE DJ, at a price no other DJ service wants to match. Half of the price I charge, is seeing a roomful of people having a GREAT time. Big Bill has over 700,000 songs from 1930 to a couple of minutes ago. If I don't have your song, I'll get it, NO Problem!
Why Choose "Big" Bill Thomas Entertainment?
While performing for you and your guests, Big Bill is interactive and fun on the microphone without going overboard. he also offers party games at no extra charge. Big Bill wears dress pants and Polo shirts to all functions except Weddings. He will wear a tuxedo, or a suit. for Weddings. For weddings, Big Bill sits down with you in advance and helps you plan out your entire reception, from entrance music to the last dance. He makes sure your special day is truly special.
Big Bill offers his "state of the art" Karaoke service with over 50000 songs. Maybe YOU can be our next American Idol! With over 500 Weddings and over 2000 special functions experience, Big Bill will give you the entertainment that you and your guests will enjoy the most at a price that you will love.